California Men's Gatherings presents…
Comedy Night
with one of the first openly gay stand-up comedians:
Jason Stuart
Thursday, June 13, 2019
Time: 7:00 p.m. meet up, 8:00 p.m. show

Location: Martinis Above Fourth, 3940 Fourth Avenue, Second Floor,  San Diego, CA 92103 (between Univ. and Washington)
RSVP: See the section below called HOW TO PAY AND JOIN US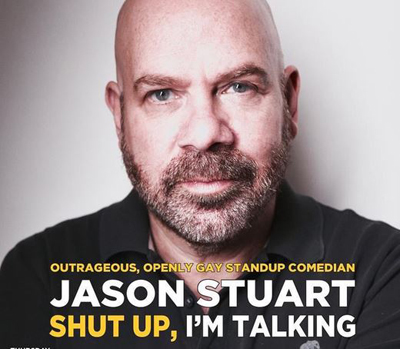 Event Cost: $16 plus $20 Venue food/drink cover, plus tip.
(SPECIAL! Tickets are normally $25, plus service fee but Jason has arranged a $12.50 half-price code for CMG guests. $3.50 service fee still applies. Martinis themselves has a $20 food/drink cover. If you've not been to Martinis, the place (and Jason) are worth it!)
CMG San Diego Presents…
Dinner, Drinks, and Comedy with HBO (and everything else) comedian Jason Stuart
Think back to how many openly gay stand-up comedians there were in the early 90s. Hard to name any, unless you watched HBO's "Out There" series, the first big showing that gays could be (horrors!) funny! And you'll find Jason Stuart near the forefront in those specials.
With his wit, timing, and plenty-of-neuroses to choose from, Jason has been delighting audiences for decades (sorry to have to use that word, Jason, but it's true.) Jason is also a past CMG attendee and one of the best talent show hosts we ever had at Gatherings. As an actor and comedian with a long resume now, it's a pleasure to see how far he's gone.
Busy Jason still maintains a love for CMG, and when asked if he could arrange a discount for a CMG outing for his night in San Diego, his immediate answer was, "Give me an hour to find out how I do that, and you got it!" So let's head out to this terrific venue, get some great laughs together, and send out some love to our CMG alum.
We realize this is still a pricier event than most of what we do, but we're hoping we can still get a core group to enjoy the show together on this special event night out.
Fans have said if Joan Rivers & Don Rickles had a child, it would be Jason. He has been in over 200 films & TV shows including The Birth of a Nation, Love, Sleepy Hollow, House, Entourage, The Closer, It's Always Sunny in Philadelphia, Vegas Vacation & Kindergarten Cop.
Note: This is a public event and there will be a mix of men and women, gay and straight, in the club, so please feel free to bring any guest you like to have with you.
HOW TO PAY AND JOIN US:
1. If you RSVP by May 29th, you will receive a note telling you how you can send planner Milo your $16, and he'll then book a block of great seats together.
After Wednesday, May 29th at 11:59 p.m., we'll no longer be taking payments, but you'll still be able to buy tickets yourself with our CMG discount code (but the guarantee of sitting with us will be out of our hands).
2. If you RSVP after that date, you will receive a note telling you which tables we're booked at and what the discount code is. You can then go to https://tickets.ma4sd.com/ordertickets.asp?p=160&src=eventperformances, enter the discount code (info to come), and book yourself a seat close to us.
We'd like to know who's interested – please click this button and fill in the little form:
What to Bring: Just yourself, your appetite, your sense of humor, and your wallet.
Parking: Meters on the street till 8:00 p.m. $5 lot next door. Uber/Lyft if you plan to drink, maybe?
Questions? Call Milo: 619-299-7571
---
All CMG events are drug-free.  This event is NOT alcohol-free. This is NOT a male-only event and is open to anyone age 21 and over, local or visiting.
CMG San Diego welcomes additional support in planning and carrying out the events we offer.
We also very much need additional homes where events could be held.
You need not join the committee to host or work on an event!
If you can help in either respect, contact us HERE.
---
Return to the San Diego Local Events page